Sydney Swans vs Geelong Cats – Saturday 16 May, 2015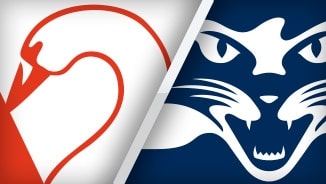 Live from OP's Tavern – 5:20PM (WA/Perth time)
(Downstairs Sportsbar)
OP's Tavern – 444 Scarborough Beach Road, Osborne Park
Hi Cats Fans,
Well it looks like we're back on track with a wonderful win against the Pies last Friday night but then again aren't all wins against that lot wonderful? We made sure Tommy Lonergan's 150th was one to remember with WA's own Mitch Duncan stepping up with a career high 38 touches; while the exciting Corey Gregson was rewarded for his great form with a Rising Star Nomination. Mark Blicavs showed he's a elite athlete and can play anywhere by keeping the Pies' captain Scott Pendlebury to 24 disposals while getting 27 himself …even Stevie J showed some of his old form!
It doesn't get much tougher than this Saturday evening when we take on Sydney at the Olympic (ANZ) Stadium. Of course last time we played against the Swans on their home patch it was at the SCG and we were belted to the tune of 110 points, but hopefully out at Homebush (where we have never lost) we can put in a more concerted effort and see where we are against the supposed 'Top 4'. We'll be at OP's Tavern for this game in the downstairs Sports Bar which has a wide range of refreshments available; so get down there and create some great atmosphere!
We'll also be starting to sell raffle tickets to our annual end of season draw with the prize being a framed signed Guernsey of the 2015 Geelong side.
Don't forget tickets are now selling for our pre-game function on May 31 too, with special guests including Brian Cook and the author of the excellent Polly Farmer biography Steve Hawke; who will be talking about the great man.
Ticket details for the function and for the game against the Eagles are below. There will also be an open training session on May 30 at Domain Stadium (Subiaco Oval) where you will be able to get photos and autographs with the players. More details in next week's email.
GO CATS!
Dennis Gedling – Perth Cats President
WCE vs Geelong Cats Pre-game function details
Sunday 31 May – 11.30am to 1.30pm @ OP's Tavern
444 Scarborough Beach Road, Osborne Park
– Function cost – $45 adults; $20 kids (meal provided within price). This cost covers entry to the function and meal only. WCE vs Geelong Cats match tickets to be purchased separately.
IMPORTANT: To be eligible to buy the match tickets, you must buy function tickets. 
– Bus from OP's to the match and return to OP's will cost $10 per head. 
– Match tickets will be available for purchase through Perth Cats – $35 for adults; $7 for kids. (New price)
Those who have already contacted Peter @ The Perth Cats for tickets will get their tickets at the new price.
To register your interest, please ring Peter between 9:00AM and 9:00PM on 0416 130 651 or 9293 1221. Tickets will be limited and on a first in, first served basis.