Geelong Cats vs Hawthorn – 2nd Qualifying Final – MCG – Friday 9 September 2016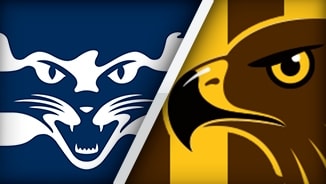 Hi Cats fans,
Well after 17 wins – 5 losses, form slumps that test patience, big wins that had us crowing and talk on everything from Motlop's decision making to Danger's Brownlow chances; we finally come to the finals and face who else but Hawthorn? The last time we played this lot in the finals it was 2014 and Hawthorn were clear favourites; but this time we actually have fit ruckmen and a heap of firepower, so we can more than do this.
Scooter looks like a certainty to play in the predicted greasy conditions, while Hendo is still a chance with that knee, but the weather might play a big part on how we line up. I think a fair few of us have had trouble putting this game out of our mind and the week off hasn't helped, but we're almost there and ready to go. The All Australian nods to Captain Selwood, Dangerfield and Boris Enright weren't bad either hey?
We'll be in the main room at The Game Sports Bar in Northbridge from 5pm this Friday. Get in early and grab a spot as we cheer on the Cats as we go for the flag! The usual drink discounts will apply. Hit up one of the committee members for a discounted drinks card.
Also, a big congratulations to Paul O'Neill who won our framed signed Cats jumper in our season-long raffle. Paul and his partner moved over from Victoria at the start of the year so a good move to make perhaps? Thanks once again to everyone who purchased tickets and special thanks to Mike Pitcher from the committee who sold the tickets on game days.
Hope to see you Friday evening!
GO CATS!
Dennis Gedling-President.
Geelong Cats vs Hawthorn
Live on the BIG screen @ The Game Sports Bar – 5:50PM (WA/Perth time) Friday 9 September 2016
The Game Sports Bar – 90 Aberdeen Street, Northbridge

Email Us team@perthcats.org
Facebook:  Here
PERTH CATS' 2016 SPONSORS