Geelong Cats vs Adelaide Crows – Round 23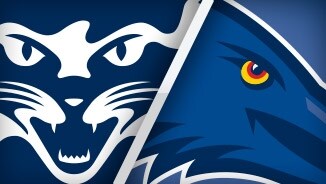 Geelong Cats vs Adelaide Crows – Round 23 – Simonds Stadium – Saturday 5th September 2015
Well that's that then for 2015. The Cats went down doing anything but fighting in a performance that was insipid at best. From the start there was no pressure and shadow chasing all night and for the second week in a row a team with absolutely nothing to play for tore us apart. 
Still, there was the comeback of Daniel Menzel which was nothing short of stunning. 4 goals, 20+ possessions and even a fantastic mark landing on one knee no less! It's great to see him back which bodes well for next season, even more than Paddy D not appearing on the 2016 Crows calendar! Some legends are set to go; but The Cats' future is looking very bright with three rising star nominations this season. 
Speaking of the Crows, that's who we have in our final game of the season this Saturday. While it's a dead rubber for us, there's still plenty of reasons to get down to OPs Tavern to cheer on the Cats with the farewell (at this stage) to James 'Pops' Kelly and Matty Stokes. A lot of us would've been there when Pops badly broke his leg at Subi in 2004; so to come back and be part of three wonderful premierships is something special. Stokesy was overlooked in three drafts and had to overcome other hurdles to play just under 200 games and two premierships; so it would be great to send them off with a win. 
Saturday's game is not broadcast on free-to-air TV, nor is there any radio coverage. The only place you can follow the game live is on Fox 503; so come down to OPs for the last time this season and enjoy the drinks and food specials on offer. You can cheer on the team and applaud the retiring champs with other passionate Cats supporters.
Get down to OPs from 11am for your last chance to buy tickets for the signed and framed 2015 Cats jumper; which incidentally would look great in your pool-room! We may not have made the finals, but hopefully the signatures on the jumper are part of the nucleus of the next great Cats' team. The raffle will be drawn at halftime.
Once again a massive thank you to Gareth and the staff at OPs Tavern for catering for us this season in so many ways.  
 
News on a date for the Perth Cats AGM and a Christmas event in Kings Park will be announced soon, so keep an eye out and … GO CATS!
 
Dennis Gedling
President.  
Geelong Cats vs Adelaide Crows
Live from OPs Tavern – 11:05AM (WA/Perth time)
OPs Tavern – 444 Scarborough Beach Road, Osborne
Saturday 5th September, 2015
GO CATS!
Perth Cats Team