Essendon vs Geelong Cats – Round 10 – Etihad Stadium – Saturday 6 June 2015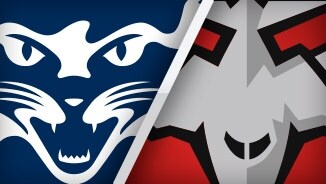 Well, a very disappointing result against the Eagles on Sunday with the boys chasing shadows and making basic errors under pressure for the most part. Still, it was good to see Hawkins back in some form with a screamer taken down at the Subi end of the ground. A big thanks to everyone that came down to the function on Sunday with a good crowd and some great guests including the CEO Brian Cook, former defender Bluey McGrath, Barry McGuire from Red Spear and author Steve Hawke. Also a thanks once again to Gareth and the staff at OP's, as well as the Perth Cats' committee for their efforts on the day. If the boys are back here in WA again this season, that means we've made the 8 which will be achievement in itself at this stage!
This Saturday we have a must win game against the struggling Bombers who are still readjusting to life under James Hird and are in as much danger as missing the finals as we are. Hopefully Rhys Stanley won't be a late withdrawal so we have some kind of representation in the ruck. The Perth Cats will be back upstairs at OPs Tavern for Saturday's game so come down and cheer the boys on to what is hopefully a reassuring win.
GO CATS!
Perth Cats' President Dennis Gedling.
Essendon vs Geelong Cats
Saturday 6 June 2015
Live on the big screen – Ad free siren to siren at OP's Tavern – 5:20PM (WA/Perth time) OP's Tavern – 444 Scarborough Beach Road, Osborne Park

GO CATS!
Perth Cats Team

Visit Us at www.perthcats.org
Email Us team@perthcats.org
Facebook:  Here