Collingwood vs Geelong Cats Round 9 – MCG Saturday 21 May 2016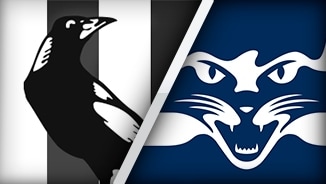 Collingwood vs Geelong Cats

Round 9  – MCG 
Saturday 21 May 2016, 11:45am (WA time)
Hi Cats Fans,
                       Our best effort of the season last Friday night? There's been a few! An almost complete performance over in Adelaide against the Crows and if we'd kicked straight it would have been over by half time. Motlop was again off the leash with 4 goals and 24 touches, while Guthrie stepped up with Danger and Selwood not at their best; playing perhaps his best game in the hoops. Then there's the fact we lost Lonergan early in the game along with some baffling umpiring, which makes the win all the more impressive.
Glad that's all over now for Paddy's sake and we move on to face the struggling Pies at the G this Saturday in the early game. Collingwood might be in a rut but just remember that penultimate round last season when we had everything to play for and they were making up the numbers; but they still smashed us to put us out for 2015. The only thing we want to repeat from that horrible night is for Menz to kick a heap of goals and take a screamer. History has shown he loves playing against the Pies.
The Perth Cats will be at The Game Sports Bar in Northbridge from 11.30AM in the main room for the game on the BIG screen; which will only be shown on Foxtel. Varcity Burgers and the bar will be open so come on down and cheer on the boys on what looks like will be a rainy day. Hit up one of the committee members for a discount card for drinks on the day too.   
For those wondering about parking; click on the link below to check out the cheapest parking near the venue or park at a train station with free parking on weekends and come in that way.
http://au.parkopedia.com/parking/northbridge_western_australia_australia/?ac=1&country=AU&lat=-31.94914&lng=115.85891459999993
GO CATS!
Dennis Gedling – President
PS Thought about sponsoring the Perth Cats? Then check out  www.perthcats.org to see what we can offer, or have a chat with Darryl when you come down to The Game to watch the match.
Collingwood vs Geelong Cats
Live from The Game – 11:45AM (WA time) 
Saturday 21 May, 2016
The Game Sports Bar
90 Aberdeen Street, Northbridge