Carlton vs Geelong Cats – Round 10 – Etihad Stadium – Sunday 29 May 2016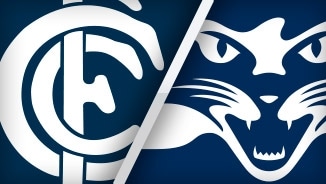 Carlton vs Geelong Cats – Round 10 – Etihad Stadium – Sunday 29 May 2016
Hi Cats Fans,
                       Bad kicking, soft footy in the first quarter like the stuff we played in 2015 and Buckley outcoaching Chris Scott again didn't make last Saturday much fun at all. The Pies were deserving winners and it was a bit of a wake up call for the boys in what will be a very even season. Big ups to Jimmy Bartel for standing up when many others didn't. Did I already mention the kicking?
That's done with and we move on to this Sunday when we take on Carlton in the early game. The Blues aren't the arrogant powerhouse they once were, but are getting better under new coach Brendan Bolton so we can't take this game lightly. Hopefully we play four good quarters and get back on track before we take on GWS, North and the Dogs in successive weeks that may define our season.
The Perth Cats will be watching the game in the main room at The Game Sports Bar in Northbridge; so come on down and cheer on the boys. There will be drink discounts and you can grab a feed from Varcity Burgers.
We'll also have more news on tickets to the Dockers game in July and our pre-game function in the next couple of weeks. The function will be held in the heart of Subi this year, so it should be great day.
Happy Birthday to Cats' Captain Courageous – Joel Selwood, who turns 28 today (Thursday 26 May)
Lastly, we welcome another sponsor to the Perth Cats for 2016. B & A COASTAL CLEAN UPS do garden clean ups, landscaping and reticulation amongst other jobs, so check out the details below and give them a call. A big thank you to B & A Coastal Clean Ups for supporting the Perth Cats in 2016.
GO CATS!
Dennis Gedling-President
PS If you fancy sponsoring the Perth Cats then check out www.perthcats.org to see what we can offer or have a chat with Darryl when you come down to The Game on match day.
Carlton vs Geelong Cats
Live from The Game – 11:10AM (WA/Perth time) Sunday 29th May 2016
The Game Sports Bar – 90 Aberdeen Street, Northbridge